The summer school takes place at the Faculty of Engineering in Rijeka, Croatia. Rijeka is the principal seaport and the third-largest city in Croatia (after Zagreb and Split). It is located in Primorje-Gorski Kotar County on Kvarner Bay, an inlet of the Adriatic Sea and has a population of 128,624 inhabitants. Historically, because of its strategic position and its excellent deep-water port, the city was fiercely contested, especially among Italy, Hungary (serving as the Kingdom of Hungary's largest and most important port), and Croatia, changing hands and demographics many times over centuries. According to the 2011 census data, the majority of its citizens are Croats, along with a large minority of Italians, and smaller numbers of Bosniaks and Serbs. The city has a strong sense of identity and the autochthonous inhabitants of Rijeka are referred to as Fiumans.
Rijeka is the main city of Primorje-Gorski Kotar County. The city's economy largely depends on shipbuilding (shipyards "3. Maj" and "Viktor Lenac Shipyard") and maritime transport. Rijeka hosts the Croatian National Theatre Ivan pl. Zajc, first built in 1765, as well as the University of Rijeka, founded in 1973 but with roots dating back to 1632 School of Theology.
Apart from Croatian and Italian, linguistically the city is home to its own unique dialect of the Venetian language, Fiuman, with an estimated 20,000 speakers among the autochthonous Italians, Croats and other minorities. Historically Fiuman served as the main lingua franca between the many ethnicities inhabiting the multiethnic port-town. In certain suburbs of the modern extended municipality the autochthonous population still speaks the Chakavian tongue, a dialect of the Croatian language.
In 2016, Rijeka was selected as the European Capital of Culture for 2020, alongside Galway, Republic of Ireland.
FACULTY OF ENGINEERING, UNIVERSITY OF RIJEKA
The tradition of Higher Education in Rijeka dates back as far as 1627, whereas the first milestone of the systematic education of engineering personnel in this area is laid by the displacement of the Navy Academy from Trieste to Rijeka in 1854. In this way, a full-time four-year study with educational courses from the fields of iron ship and steam engine construction was commenced for the needs of the Austrian Navy of that period, and it continued until after World War I.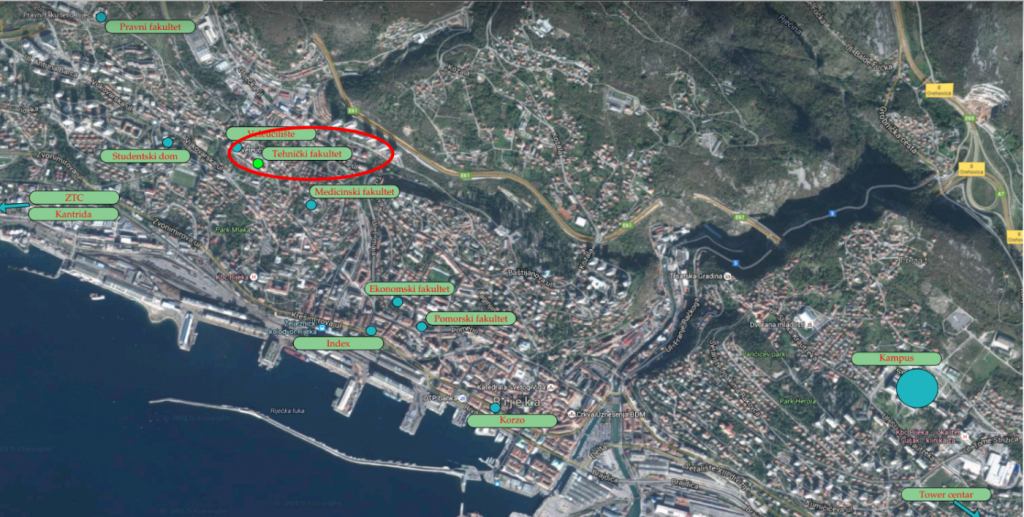 Additionally, initial foundations of the Faculty of Engineering were laid on engineering achievements like torpedo manufacturing in 1866, the first world photography of rifle bullets at supersonic speed in 1886, the birth and the first scientific achievements of the worldly renowned seismologist and meteorologist Andrija Mohorovičić, as well as the development of some of the crucial elements in naval architecture, mechanical industry and power industry both in the city of Rijeka and broader region.